When I was a lot younger, my best friend and I would make top ten lists of our favorite things. Most of them were one time only lists, like "favorite action movies" or "favorite Smashing Pumpkins songs" but there was one that became a tradition. For at least a dozen years, my Bff and I would rank our ten favorite girls in what you might call a 'like' list.
Jessica

Kristen

Alison

Kristina

Liz L.

Liz B.

Jill

Brenda

Tasha

Danielle
However my bestie and I went to different schools after fifth grade, and so our lists were quite different. He knew some of my girls but I knew none of his. And so we stopped 'ranking' girls we knew. Because that's stupid and pathetic and a certain way to be single forever, amirite?
Instead, we made top ten lists of our favorite female celebrities. This worked much better because we both knew all the girls in question and could compare notes about what we liked about each.
Sample list (c. 1998):
Jewel

Michelle

Katie

Uma

Jenna

Renee

Mira

Jennifer

Christina

Kate
We continued making these 'like' lists once or twice a year through the aught's, until adulthood and distance and serious relationships drove us apart. The last time I saw him we reminisced about our younger years and the lists we made. Both of us admitted that we don't have enough girls we like to fill a list; his was pretty much 'Katy Perry'.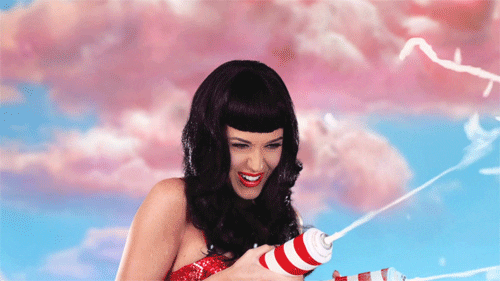 I've no clue what he sees in her
I'm not nearly as interested in celebrities or entertainment as I used to be (and my Maxim subscription lapsed eons ago) but I think I could come up with a 'like' list of ten famous women... if I stretch the definition of 'famous'.
See if you can guess my favorites by their first names (props if you get more than two)
Summer 2016 list:
Jennifer

Taryn

Kristen

Heidi

Olivia

Victoria

Katherine

Kathryn

Julianne

Anna

As for real-life girls, well...there aren't any. Ya know, cause I'm married. And I no longer frequent a centralized location stocked with enough attractive females to populate such a list. (The new girl at my office is over 40... and she's probably the youngest person in the place - present company excluded of course.)
But
What about social media? When my bff and I started making our lists there was no such thing as an 'internet celebrity' ... there was no Instagram or YouTube for hot girls to show themselves off to the masses. I can't imagine being a teenage boy today. Total sensory overload. Which is why I try not to get sucked into that wormhole.
I'm not always successful, obvs. If you're a new follower here (hello new follower!) you may have missed my earlier post(s) about My Favorite Girl. She is neither a celebrity nor a "real-life" girl.
That's not entirely true. She's a real girl. I think. However I've never met her in real life
(unlike my previous mega-crush)
so I don't count her as such. I only know her through social media, so she would be on this new third list. At the very top, carved in stone, for the third consecutive year.
And I have thought of her a lot lately. Primarily in these two ways:
If I can quit cyberstalking My Favorite Girl, why can't I quit something that directly affects my physical or financial well-being?
If I keep thinking about how long I've managed to avoid her social media circles then I'm ostensibly thinking about her. And if I'm thinking about her, then I'm defeating the purpose of not checking her Instaposts and YouTube vids.
Andso for the next week or two I'll post some of my other favorite things. Then I hope to start my elliptical in August and update y'all about my attempts at getting healthy. This may or may not cause me to return to MFG's social media sites. I don't want it to, but there are days when I could really use a good distraction from the state of the world or my impeding birthday. Plus I have new computer speakers so I can actually hear her.
But I'm not there yet. I'll try everything else first. I can do this.
Hope y'all are enjoying your weekend.
~